Integral to our investment philosophy
Responsible investment (RI) has long been integral to our investment research and decisions and our approach to business more broadly. The rationale for responsible investment is clear: companies with sustainable business models that look to the future have more potential to deliver value to all stakeholders, including shareholders. As a founding signatory of the United Nations' Principles for Responsible Investment (PRI), responsible investment has been an established pillar of our business for well over a decade.
At the heart of our RI approach is a strong research capability embedded within our investment process
Our research is supported by proprietary RI ratings that enable us to assess material ESG risks and opportunities for over 8,000 companies worldwide
As active managers, engagement is key and we have a strong record in influencing positive change through stewardship and voting
We have a solid culture of collaboration that underpins our research and investment approach
We offer a range of dedicated RI strategies, including our innovative Social Bond franchise, for clients seeking to more actively promote ESG factors or achieve specific sustainable outcomes
At Columbia Threadneedle Investments, we strive to be responsible stewards of our clients' assets, allocating their capital within our framework of robust research and good governance. The integration of Environmental, Social and Governance (ESG) considerations within our research builds a fuller picture of the risks and future return prospects of all investment opportunities.
Collaboration enhances decision-making
Our dedicated RI analysts are integral to our global research team and share the same reporting line. Our research culture is embedded in our equity, fixed income, real estate, macro, and data science teams who continuously collaborate and share insights throughout the firm. This collaboration makes our investment decisions and stewardship activities more informed and makes it easier to identify material opportunities and risks that protect the clients' interests and the capital they entrust to us.
Identifying opportunities: A thematic approach
In addition to the quantitative rating, our RI analysts also conduct a qualitative analysis of companies, sectors and themes concerning ESG and other sustainability considerations. We focus on a subset of eight of the 17 UN Sustainable Development Goals (UN SDGs) that we deem the most material to investments. Our thematic research explores investor topics such as energy transition, human capital development, and carbon policy. This thematic research is always investment-focused and highlights risks and opportunities for sectors and companies from an RI perspective.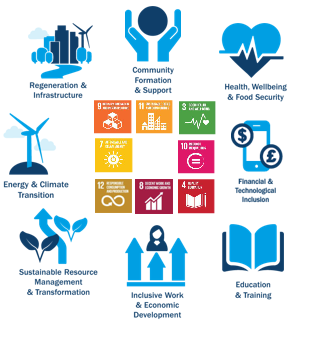 View our latest Responsible Investment Quarterly report here:
In Credit Weekly Snapshot – 25 October 2021
In Credit Weekly Snapshot – 18 October 2021
In Credit Weekly Snapshot – 11 October 2021
In Credit Weekly Snapshot – 4 October 2021
In Credit Weekly Snapshot – 27 September 2021
In Credit Weekly Snapshot – 20 September 2021
In Credit Weekly Snapshot – 13 SEPTEMBER 2021
Climate change: reassessing the risks of wildfires
The risks of wildfire are clear, but in between individual hardship and broader economic impacts, many other costs are typically not accounted for by investors.
China is making good RI progress, despite its contradictions
China is a double-edged sword: it is the world-leading renewables developer, installing more than double the gigawatt capacity of its nearest competitor over the past decade both in terms of wind and solar power, but at the same time it has seen the highest coal capacity additions over the same period – nearly quadruple that seen in India.
On RI investing the US is once again the land of opportunity
While one in every three dollars in the US is managed following sustainable investment strategies, and the nation is the world's largest country issuer of green bonds, there remain significant opportunities for growth. Early signs indicate the Biden administration could provide a 'turbo boost'.
Committing to zero carbon real estate
Our UK Real Estate strategy to reach net zero by 2050 addresses a major source of risk for commercial property investors and aims to deliver better outcomes for all stakeholders